Messy Affection - What Does it Mean When a Dog Licks You?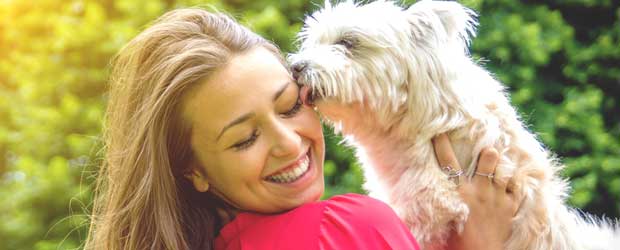 Most dog owners are perfectly okay with getting 'kisses' from their dog and see it as a display of just how much their pet cares for them and is happy to see them. Of course there are others who think that there's more of a biological impetus behind it in comparison to just feelings of fondness, and one of the more popular theories seems to be that dogs lick the skin of humans because of the bones that are underneath them. Is there any truth to that? Nope.
Need pet meds without vet prescription?
Buy Frontline Plus
Buy Advantage Multi
Buy Nexgard
Buy Revolution
Want to save extra on your pet meds? Click here for additional savings.
Let's have this blog entry look further into what does it mean when a dog licks you.
The first thing to understand here is that most often a dog is licking because of one of three factors – happiness, hunger, or sickness. There are other reasons, and it is fair to say that the majority of the time the dog is licking you it is because he or she is happy to have you near them. This is even more likely if they're doing so very enthusiastically. If you're a dog owner then you know the scenario. So much exuberance when it comes to the licking that you almost have to shield yourself from it, even though you like it!
It's all part of being a dog owner, and most of those people wouldn't have it any other way. You should prevent your dog from licking your mouth area of your nose, but generally speaking licking anywhere else is find provided there's no broken skin in that area or the skin is sunburnt. Saliva is usually harmless, but not always. Besides, dogs are usually perfectly okay to lick a hand if it's extended to them, and that's usually how it goes with what does it mean when a dog licks you.
Discouraging licking is also something you might want to consider if you're immunocompromised, and we will wrap this up with a discussion of good way to discourage a dog's licking. And from the dog's end of things, here's when you should worry about a dog licking itself too much.
Location Counts
When wondering what does it mean when a dog licks you, it's helpful to start with any understanding of how where they're licking you is relevant. One of the things that is know about canine biology is that dogs learn to lick from their mothers. You've probably seen a dog with newborn puppies who is licking them each in the same way and in equal amounts. This is because licking puppies during the first couple of weeks of infancy stimulates them to urinate and defecate. So because of this dogs learn that licking is a genuine show of affection and caring for the one who provides for them.
And once you choose your puppy and take them home – that becomes you!
Now of course you wouldn't change a thing about that, and if you would then you're probably not the type of person who'd choose to own a pet. So with that said let's now look at specific spots on the body as a more focused look at what does it mean when a dog licks you. An owner's face is nearly always where they'd prefer to do their licking, so why is that? Well, it's not always because they love you so much.
One of the reasons dogs lick faces can be what that person had to eat recently. So yes, if you have a pulled pork sandwich 30 minutes ago for lunch your dog may be more inclined to lick your face than if it was a green salad – with no bacon bits.
Next up location wise for our discussion of what does it mean when a dog licks you is feet. A lot of dog owners are surprised with how keen their dog is to lick their feet. Many times when a dog is licking feet it's because they want to get their owner's attention, but it can also be because they're intrigued by the different smell and taste that feet have.
Something only a dog would understand, right? Licking can also be a sign of anxiety, fear, or even simple boredom.
Discouraging the Behavior
Ok, so if you're not as keen on all the licking as your pet then what do you do about it? This isn't part of what does it mean when a dog licks you, but it's something worth sharing too. One of the most recommended ways to address this is to get up and leave the room if you're dog won't heed verbal requests to 'stop' licking. Leave the room and prevent them from being able to follow you into the next one. This sends the message that the behaviour isn't going to be tolerated.
Need pet meds without vet prescription?
Buy Frontline Plus
Buy Advantage Multi
Buy Nexgard
Buy Revolution
Here's more on excessive dog licking and what you can do about it. What does it mean when a dog licks you? It could mean any number of things, but usually it's just that you're #1 in their books.
For any Inquiries or to Purchase over the phone Call Toll Free: 1-888-798-9128