NexGard chewables for Dogs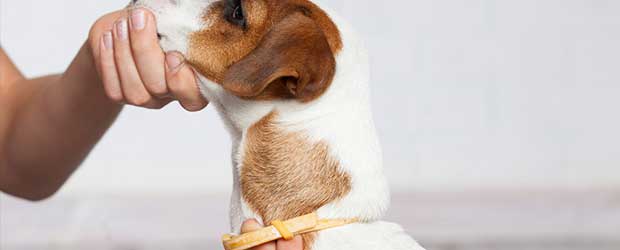 With the flea and tick infestation in dogs dramatically increasing, the number of flea and tick control medicines has also increased. However, there are only a few flea treatments that are not only effective but are easy to administer too. One such highly effective medicine is NexGard for dogs.
Buy Nexgard for Dogs Without Vet Prescription
What is NexGard Chewables for dogs?
NexGard is an oral formulation that comes from the same company that manufactured the effective Frontline Plus; Merial. Since NexGard flea and tick preventative offers a number of benefits, it has become the top choice for many veterinarians. NexGard for dogs is a delicious chewable tablet that can kill the adult fleas even before they have a chance to lay eggs. Similarly, it can also kill ticks too. Considering the necessity of dosing your dog easily, NexGard for dogs is beef-flavored so that he or she considers it a treat!
Effectiveness of NexGard flea and tick preventative
Merial has come up with a new molecule called afoxolaner that is particularly designed to kill both ticks and fleas in dogs. NexGard Chewables for dogs should be given orally to the dog, and they provide protection for the entire month. NexGard Chewables for dogs can only be purchased with a prescription.
According to the company, when either the tick or the flea comes in contact with afoxolaner present in the dog, the chemical disturbs its central nervous system, leading to hyperexcitation, and eventually death. Afoxolaner not only prevents flea infestation by killing the fleas before they get to lay the eggs, but it also continues to kill the parasite for the whole month.
Advantages of NexGard chewable
There are multiple advantages of NexGard for dogs. Some of them are:
It is a fast acting formula which is more powerful as compared to other oral flea control medicines. Only one chew has the ability to kill both ticks and fleas. In fact, the medicine starts working only a few hours after initial administration, and in just 24 hours, 100% fleas can be killed.
Since it prevents a flea infestation by killing the adult fleas before they lay eggs, the medicine is effective and safe for the entire month.
It is a beef-flavored soft chew which is why dogs consume it readily. Moreover, dosing your dog is also easy since NexGard can be given both without food and with food and comes in a bite-sized chew.
It can help get rid of a variety of ticks such as brown dog tick, lone star tick, and black-legged tick.
There have been no adverse interactions with the use of NexGard up till now.
The medicine is suitable for puppies that are more than 8 weeks old. It is also safe to give NexGard for flea and tick to dogs weighing 4 pounds or more.
The medicine for flea control can also be used with other treatments such as anthelmintics, antibiotics, and vaccines.
Since NexGard Chewables for dogs is an oral treatment, you don't have to worry about your dog when you take it for a swim or a bath
The medicine can also prevent subsequent flea infestations once the treatment for existing flea infestations has started.
The medicine also has a long shelf life since the expiration date is two years after the date of manufacture.
NexGard side effects
While NexGard side effects are quite rare, there are cases where they do occur. NexGard side effects your dog may experience include lack of appetite, vomiting, drowsiness, irritation, and diarrhea. If you notice any side effects or allergic reactions in your dog on the administration of the medicine, then your dog might be allergic to the chemical in the medicine; afoxolaner. While the chemical is considered safe, it might not be suitable for your dog.
NexGard drug interactions
There haven't been any known contraindications with the use of NexGard for flea and tick. However, just like with any medicine, make sure to inform your vet of other medications your pet is taking along with NexGard chewables including supplements and vitamin tablets.
Effectiveness of NexGard
In terms of the time it takes for the treatment to work, NexGard is quite fast; it can kill 100% fleas in just 24 hours. The medicine works, as mentioned earlier, by over-stimulating the nervous system of the fleas and ticks. Of course, you might see your beloved pet scratching and itching even after 24 hours, but that's only a habitual reaction and will stop after two or three days.
Remember, for NexGard to be effective for your dog, different strengths are needed according to the size of your dog, just like other flea treatment options. If you find it difficult to determine the right dosage for you, you can ask your vet to do so. Your vet can ensure that only the right dosage is administered to your dog. With the correct application, you can provide a whole month of effective protection against ticks and fleas both!
Precautions to take when administering NexGard
While NexGard is considered safe for dogs, it is still better to take precautions.
There has been no evaluation done yet for the use of NexGard in breeding males and females both.
Do not use in those dogs that have a history of seizures. For the safety of your dog, it is crucial first to consult your dog before you use any medicine on it.
Make sure to keep NexGard away from children since the product is not suitable for human consumption.
Just like handling other medications, make sure to wash your hands thoroughly after you give NexGard to your dog.
Buy Nexgard for Dogs Without Vet Prescription
Conclusion
Treating your dog with NexGard will ensure that fleas and ticks are killed. At the same time, the medicine also protects your dog against harmful parasite-infested diseases apart from flea infestation. When it comes to pet care, it is best to choose only the best which is why NexGard is a smart choice. With no known NexGard side effects and numerous benefits, the medicine is ideal for your furry friend. Get yours today here!
For any Inquiries or to Purchase over the phone Call Toll Free: 1-888-798-9128