Frontline Plus Reviews For Dog Fleas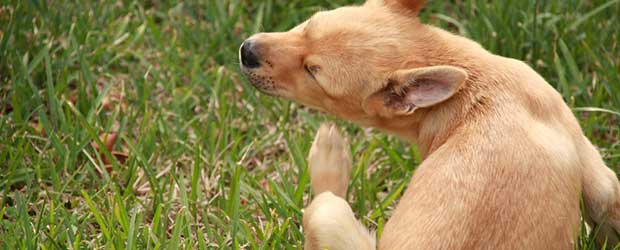 Pet Fleas are a nuisance for both pet owners and their best friends - cats and dogs. From flea collars to serums to powders, you must have heard of different methods of killing fleas. There are various products of different companies available in the market, and all pet owners face the tough decision about which product to choose. From all of the available products one name that has earned the trust of numerous customers is Frontline Plus. If you go over Frontline Plus reviews, you'll understand why pet owners continue opting for it.
Buy Frontline Plus for Dogs
Frontline Plus delivers results
Frontline Plus is recommended by many veterinarians and pet owners because it helps to prevent your four-legged friends experiencing painful flea bites and accompanying health complications. It not only eliminates existing fleas on cats and dogs but also prevents new fleas from finding a host in your pet.
Frontline Plus produces consistent results which have cultivated a sense of security in the minds of pet owners. They are confident that whenever they use this product, favorable results will follow. This ability to give positive results time after time has made Frontline Plus a front-runner in the marketplace. Although it is a bit expensive, the benefits of this product outweigh its cost. It is made up of two active ingredients which help to kill adult fleas and disrupt the reproductive life cycle of ticks and fleas.
According to Frontline Plus reviews, the number of satisfied customers is continuously increasing. And it's understandable why Frontline Plus is considered an exceptional flea and tick treatment that should be used by every pet owner.
Frontline Plus - Benefits and drawbacks
Even the best products may have some associated pitfalls, and that is why it is important to weigh both pros and cons of a product before using it.
Benefits
Established, top quality brand name, highly recommended by veterinarians
Friendly customer service policy and great return
Two active ingredients that completely kill fleas
Kills fleas in just a couple of hours after application
Kills ticks in just 12 hours after application
Drawbacks
More expensive than other products available in the market
Can cause an allergic reaction in some cats and dogs
The application may be difficult
Frontline Plus has many features, which have been listed below.
Acts as a shield
Frontline Plus acts as a shield protecting your pet against flea infestation. It absorbs into the pores of the skin of your pet, protecting its whole body as well as your home.
Familiar method of application
Frontline Plus is available in the form of serum in a pipette. The serum is applied to the pets back with the applicator which is a common method of application in such products. It is also not too difficult once you get your pet in control.
Two active ingredients
Frontline Plus contains two active ingredients that wipe out the total population of fleas and their eggs. Other cheaper products available in the market do not kill flea eggs and larvae.
How long does it take for Frontline Plus to work?
As soon as you apply Frontline Plus to your pet it gets to work. In just a couple of hours, it takes care of adult fleas that might be present in the fur. It immediately stops the maturing of flea eggs and larvae with the help of a growth inhibitor called S-Methoprene.
Other things you should know about:
Easy to use
It is easy to apply Frontline Plus although you may need a friend to hold your pet to stop it from wriggling. Once you apply it properly, you can forget about fleas for thirty days.
Unfailing protection
Frontline Plus provides consistent protection for the whole month. If it is applied as directed, it keeps your pet flea-free for 30 days. Even when they are outside, you can rest assured that no new parasite will be attracted to their skin.
Friendly customer service
Frontline plus provides its customers a 'Satisfaction Plus Guarantee' where if you are not satisfied with your Frontline Plus product you can have it replaced or ask for a professional exterminator to visit and treat your home.
Waterproof
Frontline products do not wash away with water. You can bathe your dog or take it swimming without worrying about the serum washing off although it is better to avoid water for 24 hours after application.
Protects your home as well
Frontline Plus products use active IGR technology to stop the hatching and development of flea eggs. Such kind of prevention provides enhanced household protection by breaking the lifecycle of fleas.
Frontline Plus side effects
It is vital that you purchase the solution that corresponds correctly to the weight of your pet. If you buy the wrong formula then your pet may experience some Frontline Plus side effects such as vomiting, lethargy, and rashes.
In some Frontline Plus reviews posted online, pet owners have also complained about skin irritation and hair loss of their pet at the site of application. This product should also be kept away from children as it can be harmful to them if they ingest it or if it gets into their eyes.
Frontline Plus for cats
Frontline Plus for cats helps to not only to protect cats from fleas and ticks, but also kills them. You can safeguard your cat against fleas and ticks as soon as you buy and apply this product. There is only one dosage available for cats irrespective of their weight, size or age. You can easily buy this product without a prescription from your vet.
Buy Frontline Plus for Dogs
Wrapping it up
There are various forms of flea control treatments available in the market, but Frontline Plus is a topical flea treatment that is known to be long lasting and fast acting. It is currently available in liquid form and should be applied directly to the pet's skin for maximum protection against fleas and ticks for the whole month.
There are numerous Frontline reviews online that all attest to the fact that when pet owners think about flea treatment, the first name that pops into their minds is Frontline Plus. Save your pet from negative side effects by using unreliable products by opting for this medication.
For any Inquiries or to Purchase over the phone Call Toll Free: 1-888-798-9128